There has been a Christian presence on this site from at least the 6th century, under the first two bishops, Dyfrig (Dubricius) and Teilo, and pre-Norman architectural evidence for the early medieval church is shown by the remains of the late 10th/early 11th-century cross in the south aisle, as well as grave markers set in the fabric at the west end.
The present building dates from the Norman period, around 1120, when bishop Urban, a Welshman, brought the remains of St Dyfrig from Bardsey Island, off the coast of north-west Wales, down to Llandaff.
Dating to Urban's time is the sanctuary arch with its roundels or medallions, and later Norman work is represented by the north and south doorways into the nave. These doorways date towards the end of the twelfth century, at a time when Bishop William Saltmarsh either extended or rebuilt Urban's church, using masons from St Augustine's Abbey, Bristol.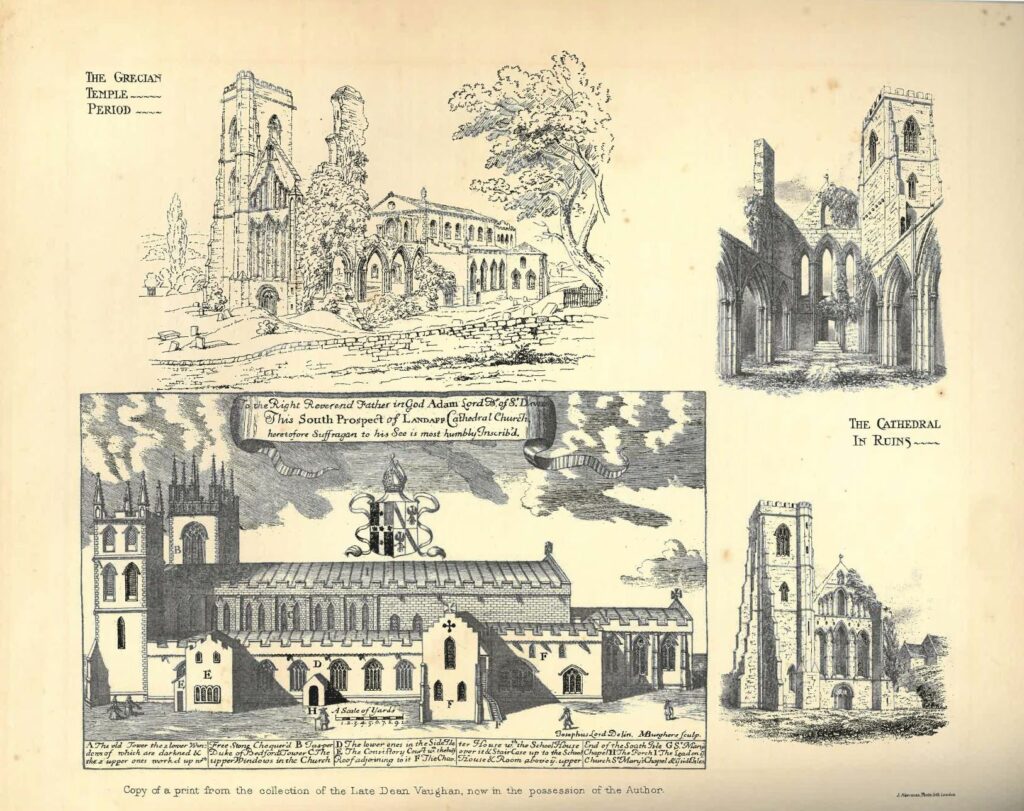 Saltmarsh's successor as bishop, Henry of Abergavenny, built the early Gothic west front, the central part of which survives today, as well as the nave, work that may have been continued by successive bishops. The design is linked to what has been called 'The West Country School of Masons', centred on Wells and Glastonbury. By the middle of the thirteenth century the Chapter House had been added, with the Lady Chapel built by William de Braose during his time as bishop (d.1287).
The cathedral has undergone three major upheavals and restorations. In the early 18th century, when the nave was roofless, following the collapse of the south-east tower, the architect, John Wood the elder of Bath, built a new cathedral beyond the roofless nave, in the style of an Italianate temple.
Wood's church, a building for which few had a good word, was demolished when the Victorian restoration was begun in the 1840s, under the architects John Prichard and John Pollard Seddon, culminating with the new south-west tower (the Prichard Tower) in 1867-69. The wartime devastation of the cathedral occurred on 2nd January 1941 when a German parachute landmine landed on the south side of the cathedral, initially having snagged on the Prichard Tower. The collapse of the roof and south aisle and other areas meant that Llandaff was the most damaged cathedral in the Second World War after Coventry. The post-war restoration was undertaken by the architect George Pace, with a repaired and refurbished cathedral and the addition of the St David or Welch Regiment Chapel on the north side. A service to mark the event was held in 1960, attended by Queen Elizabeth II and Prince Philip, Duke of Edinburgh.